We've been on an unspoken quest to show the kids as many of America's beautiful places as possible. So far, we're making decent progress, but it's not lost on any of us that we're running out of time. So in the summer of 2017, we set out to cross a number of 'must-see' locations off the list. What we realized in the process is that no matter where you've been (or perhaps even how many times you've been there), there's always something new to see. Having made this loop, I think we could set out on the exact same trip again and see something more.
Here's a brief recap of the trip the way we did it, the hits and misses, and some things we might do a little differently the next time around.
Saturday: Indy to Las Vegas
Pack just enough to keep you in clothes for the week, plan to do laundry a few times, and hit the road. We flew into McCarron Int'l, picked up an SUV, and set off for Trump International. If you've not stayed in a Trump property before, picture your 'normal' high-end hotel and then gild everything with gold. The lobby was full of tourists from other countries and people (probably like ourselves) who scored an amazing deal on Priceline. Across the street, I encountered someone taking a selfie with the hotel in the background and their middle finger raised toward it. A selfie-protest, I presume.
Wanting to do a few Vegas events without exposing the kids to too many Vegas events, we settled on a little pool time and caught Blue Man Group show at the Luxor. The show somehow achieved that perfect balance between an amazing display of remarkable talent and vomit jokes. It was great. That evening we wandered around to catch a few Vegas highlights: the fountains at Bellagio, the arcade inside Ceasar's. I would have liked to have seen a Cirque de Soleil show, but the only one that would have worked with our timeline was something about the history of erotic sensuality or something. We skipped it.
Sunday: Zion National Park
Here's our first do-over for the trip: We should have pulled everyone out of bed at dawn and hit the road. Instead, we let them sleep a bit, wandered up the road to a fantastic little diner for breakfast, and got rolling much later than anticipated. The result was that we arrived at Zion late afternoon and only spent 5-6 hours in the park. While we got in an amazing hike to the Emerald Pools, cavorted with wildlife, and saw a real life-and-death rescue happening before our eyes, it wasn't nearly enough time. You could spend a week in Zion and only scratch the surface. We didn't even scratch the scratch.
There are many iconic hikes in Zion National Park, including Observation Point, The Narrows, and Angel's Landing. We missed them all. In retrospect, they may have been too much for our crew, although I'm reminded that most of us tackled The Beehive in Acadia National Park. In any event, these three remain on my personal bucket list.
On the way out of the park, we dined al fresco at a cool little tex-mex place called The Whiptail Grill as the temperature dropped and the sky turned to full-on black. It was both chilly and memorable.
We bunked down that night in a villa at Sand Hollow Resort, just up the road from the clubhouse. Sand Hollow is one of the top golf course resorts in Utah. It was stunningly beautiful. We didn't play. We arrived late in the evening, the kids swam a bit in the morning while breakfasting at the pool, and then hit the road for Bryce Canyon National Park.
Monday: Bryce Canyon
You can plan a trip like this to the very last detail or you can fly by the seat of your pants. Our approach (like usual) was somewhere in the middle. So when I was looking at our route to Bryce Canyon, I realized we could do most of it on the highway or take a two-lane through a large green blob on the map that traversed Cedar Breaks National Monument and Dixie National Forest. The green blob looked more interesting, so we hung a right at Cedar City and took the long way past Navajo Lake and Duck Creek Village. We stopped a few times along the way to dip toes into rushing snowmelt creeks or to simply take in the views. It was a gorgeous drive.
We rolled into Bryce Canyon around lunch, grabbed something quick to eat at a little wooden shack, and then headed to the trails. What we saw over the next few miles simply boggles the imagination. Of all the places we've been, all the trails we've walked, I've never seen anything like Bryce Canyon.
You walk out the back door of the lodge and cover about 500 yards of meandering paths, which all eventually lead you to the edge a gorge that spreads to the horizon in three directions. Everywhere you look, there are towering orange spires that seem to defy description and gravity. We hiked down The Rim Trail and turned at Sunset Point to descend on the Queen's Garden and traversed the canyon to return on the Navajo Loop Trail up Wall Street with an amazing view of Silent City.
While at Bryce, we learned that they have an active stargazing culture, including several Astronomy and Night Sky Programs. If we had it to do over, we'd figure out the necessary logistics required to attend one of these. Instead, we packed up late in the afternoon and started the trip to Page, Arizona. We had intended to stop by Coral Pink Sand Dunes State Park, but we left Bryce at almost 8p, so we missed it. No matter how great the sand dunes might be, I can't imagine this was a bad decision.
Tuesday: Antelope Canyon, Horseshoe Bend, Lake Powell
We had a full day planned, so we started early. First up was Antelope Canyon. there are two different canyons to visit: Upper and Lower. I'm told that Upper has more dramatic lighting, but only if you are lucky enough to be there midday (between 11a-1p). The reason is that the gap at the top is very narrow, essentially cutting out much of the daylight unless it's directly overhead. For this reason, we opted for the Lower Canyon with a tour starting at about 9a. Both canyons are on Native American lands and require that you visit with one of the authorized groups. The tickets are limited and are sold on a first-come, first-served basis, so we arrived early and took the first available.
Antelope Canyon is difficult to describe. We descended into the slot canyon by a series of gangplanks and staircases and gradually walked our way out as the walls closed in. At the end, we merely stepped out into the light. Looking back, it was difficult to see where we had come from, emerging as we did from beneath the ground. Overall, it's stunningly beautiful; don't miss it.
From Antelope, we stopped at Horseshoe Bend on the way back to town. If you're on Instagram, you've likely seen pictures of this spot… a massive turn in the Colorado River viewed from 1,000 feet above the surface of the water. Truly, photos don't do this justice. While there's really nothing to do here be sit and be awed, it's worth the effort to make the short (~1 mile) trek from the road to the rim. It was quite warm by the time we arrived (around noon) so be sure you have water. In fact, be sure to have water everywhere and at all times.
We ate a late lunch in a gas station turned BBQ-pit-and-live-music-venue called Big John's Texas BBQ. We sat outside under the pavilion and listened to music while sampling Big John's best. We may have been really hungry or the food may have been excellent. Or both. Probably both. Following Big John's, we had a couple of hours to regroup before heading over to Glen Canyon National Recreation Area and boarding a boat for a sunset cruise on famous Lake Powell.
Over the years, with 2 million annual visitors, Lake Powell has gained a reputation as a houseboat-party-destination. A product of the Glen Canyon Dam on the Colorado River, it took nearly 17 years for the water to reach 'full pool'. Since then, the water levels have been in constant flux, resulting in amazingly colored walls rising above the water level. There are also several miles of narrow channels that make for awesome kayaking and canoeing. We spent our evening on a sunset cruise which provided a guided tour of the lake and significant bits of history along the route. We enjoyed it, but I think spending the time in a smaller boat in the channels may have been more enjoyable.
Wednesday: Grand Canyon and Flagstaff to Sedona through Oak Creek Canyon
We set out for the Grand Canyon and made it about 10 miles down the road before stopping at a group of roadside stalls to do some shopping. We spent about 30 minutes shopping and talking with the Native American couple that was running the place. The girls all bought a small piece of jewelry and we were back on the road.
By the time we arrived at the Grand Canyon, the weather began to turn. While standing on the rim looking out over the vista, the blistering heat of the day abruptly turned to the mid forties with spitting rain. We wandered down to the historic lodge and found our way to a table for some lunch and hot chocolate. After lunch, we walked the trails a bit before heading back for the road. Truly, if you really want to experience the Canyon, you're going to need a few days here (at least.) Just hiking down into the canyon would take several hours, but I feel that it's the best way to really get a feel for the place. Next time…
We drove south to Flagstaff and then on to Sedona. We opted to stay away from the interstate and instead took the road that runs through Oak Creek Canyon. Once we bunked down in Sedona, we found ourselves back in this stretch several times: twice for hiking and once to slide down the chutes at Slide Rock State Park. Oak Creek Canyon (Arizona Highway 89A) is one of the prettiest drives in the country and definitely not to be missed.
Thursday – Friday: Sedona
We had planned all along to spend a little extra time in Sedona and I'm glad we did. From the Pink Jeep Tour (Broken Arrow is highly recommended) to the Chapel of the Holy Cross to hiking the vortex to the farmer's market, we packed our days with outdoor adventures and loved every minute.
Some random recommendations:
Visit Enchantment (even better: stay there). We hiked near the property, climbed to the top of the Boynton Pass Vortex, and had a lunch on the patio surrounded by red rock cliffs.
Take the Broken Arrow Pink Jeep Tour. We were trying to find the trail that included the most off-roading and this is definitely it.
Visit Slide Rock State Park. I think there are hiking trails here, too, but go for the swimming/sliding down the sandstone 'slide'.
Hike. Everywhere. You. Can. As we drove from place to place, we often stopped at trailheads on the side of the road with little idea what might be out there or on the other end. We saw so many beautiful things this way.
Saturday: Sedona to Las Vegas to Indy
Up very early, drive to Las Vegas, drop the car, catch a plane. Sleep.
Route Map:
There are many ways to take this trip, clockwise, counterclockwise, zig-zagging… I was pleased with the itinerary and felt like we definitely saw quite a bit in a short period of time. But there are still things we missed, mostly noted above. But this area of our beautiful country has so many gorgeous places, I think you could go to the general area multiple times without growing weary of it. Zion National Park and the Grand Canyon should both be destinations by themselves. And many other places in Utah deserve a visit as well.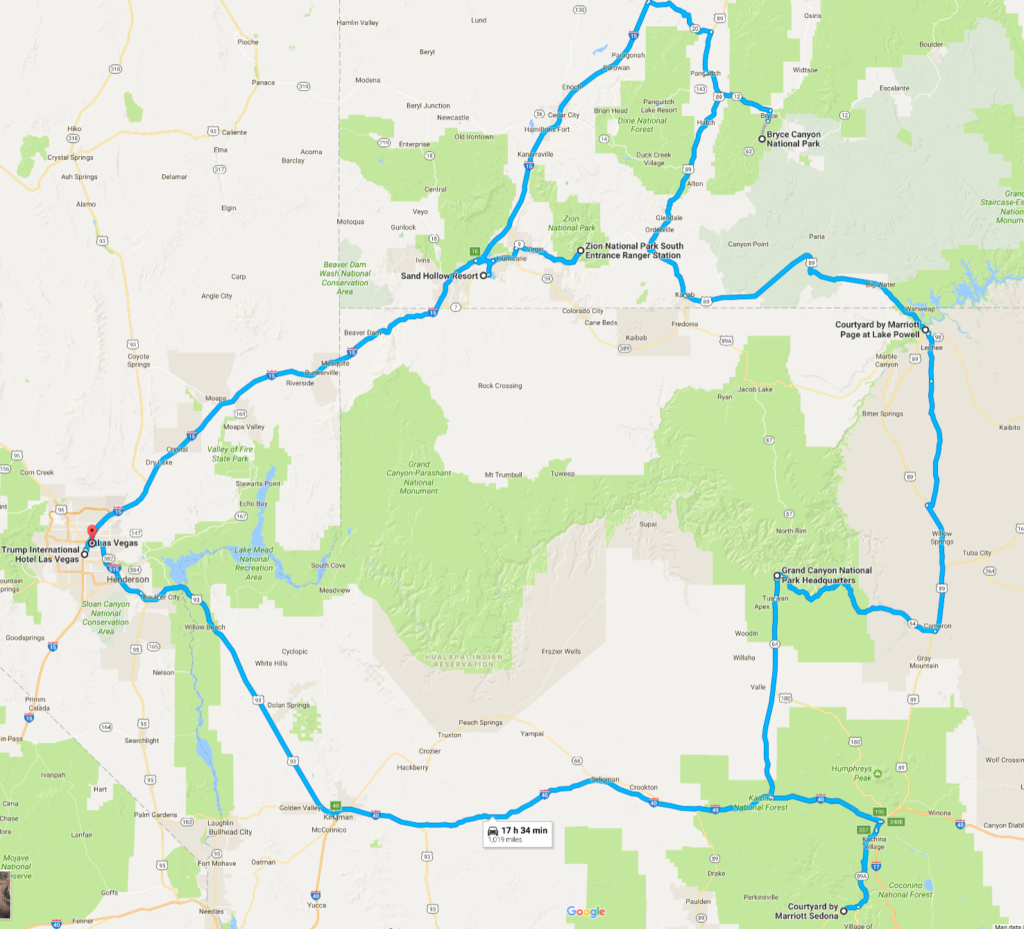 Postscript: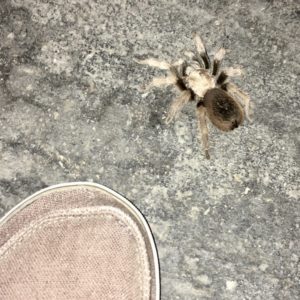 On Thursday evening, Char and I left the kids in the hotel pool and drove a few miles down the road to a winery for dinner. It was a nice, relaxing time on the patio looking over the grapevines. On the way back to the car, we paused to admire this little guy in the driveway. Yes. That's a tarantula. And, for perspective, the end of my shoe.