Having never been to the Pacific Northwest (and being mildly jealous of Ben's photos from his trip), Char and I hopped a Frontier Airlines flight and landed in Portland. The idea was simple: spend a few days seeing as much of the Oregon landscape as possible.
To pull this off, we were going to put a few miles on the rental car and the hiking shoes: by the end of the week, we'd covered roughly 900 miles driving and 50 miles walking.) I had planned to go from Portland to the coast along highway 99W and arriving somewhere near Lincoln City, but we couldn't bear the thought of missing Cannon Beach. So after spending a day roaming around Portland (the Rose Test Garden, the Japanese Garden, a small farmer's market, and a great dinner at Southpark Seafood), we started Monday with a quick stop at Blue Star Donuts and headed for the coast.
Monday: Portland – Cannon Beach – Bandon
This was a long day, punctuated by a few fun stops and some beautiful Oregon coastline. Arriving at Cannon Beach, we drove a couple miles north to Ecola State Park and jumped out and started hiking. We hiked from the main parking area to Indian Point Beach, where surfers and kids alike were all decked out in full wetsuits. Stunning place and one of the best views of Cannon Beach available.
From there, we drove nearly the entire length of the Oregon coastline, stopping for essentials like coffee and food and to gaze in wonder at one postcard-worthy overlook after another. At some point, you get a little numb to just how beautiful everything is. Keep in mind: the weather you see in all of the photos below was in one day, often within minutes. With the marine clouds blowing in from the sea, the sky could quickly and easily go from completely gray to azure blue (and back again) in moments. I've never seen anything like it.
Tuesday: Bandon to Crescent City
After wandering around town and having breakfast, we stopped by Bandon Beach before getting on the road to Crescent City, California. Bandon might be the most beautiful beach I've ever seen, dotted with enormous haystack rocks from from volcano activity eons ago.
From the beach, we fell into "overlook postcard mode" again as the marine clouds poured in from the ocean and into the hills and the weather changed from temperate rain forest to beautiful blue skies… and back again. As we got closer to California, the sky turned blue and stayed that way.
Arriving in Crescent City, we took a quick break and then set out for Jedediah State Park to walk among the giant Redwoods. It's hard to explain how big a one of these trees actually is, but these might help:
One tip: We walked a couple of the few paths in the park and stopped in Stout Grove before leaving. Stout Grove is a small loop trail very near the parking area and really shouldn't be missed. Behind the grove is the Smith River, and there is a sort of extended walking bridge across the river to access a campground. It was a beautiful, quiet place to spend some time.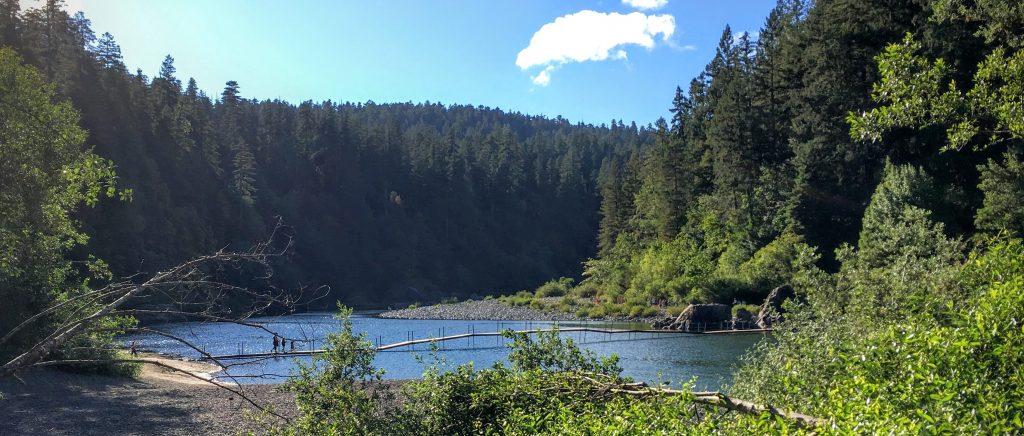 Wednesday: Crescent City – Crater Lake – Bend
We were on a schedule for Wednesday: we needed to cover the mileage from Northern California up to Bend and be there in time to meet our guide for a moonlight canoe tour. Along the way, we stopped to gape at Crater Lake National Park. If you're ever close enough to decide if you should go see it: Go see it. You won't be disappointed.
At Crater Lake, we hiked up the Garfield Peak Trail, which leads away from the lodge and up into a spectacular overlook. The trail is a little sketchy in parts and definitely steep, crossing over snow fields and through rocky switchbacks. It takes about 90 minutes to get to the top, but the scenery is worth every step.
Oh, and I almost forgot to mention: Early in the morning, while out walking along the beach, I spotted Bigfoot (top left corner, click for larger image):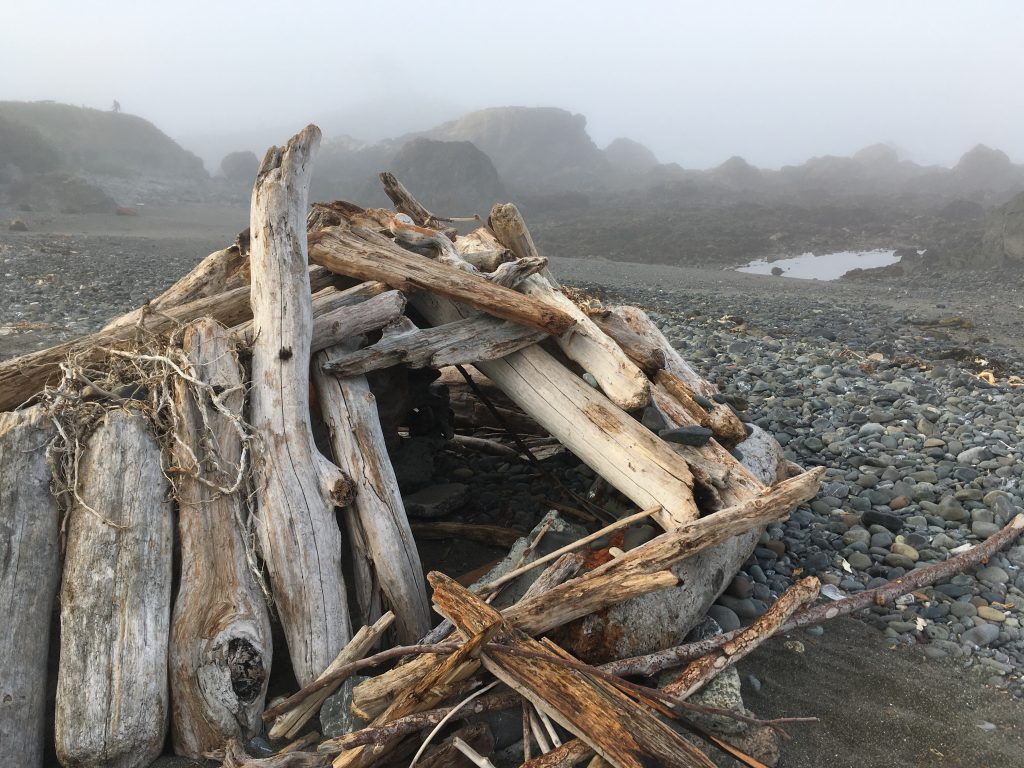 We arrived in Bend just in time to meet up with the tour group at Wanderlust Tours. Boarded a bus and drove about 45 minutes to a special lake that Courtney, our guide, had chosen. Along the way, she told stories about the area wildlife and geology. As a Naturalist, she had a deep knowledge and appreciation for this beautiful state and was eager to share it with us. Along the way, we passed a volcanic dacite flow that looked like it happened a few years ago, when in fact it had been nearly 2,000 years. "A lot of things you encounter out here look like they just happened. Things like forest fires and volcanic remains have a strangely recent appearance, but it's very deceiving," she said. The dacite flow was a perfect example.
It's hard to get a photo on an iPhone from a canoe at dusk, but this shot of Mt. Bachelor in the distance and the sunset from the front of the canoe are close to how it looked. It was incredibly peaceful being on the water in full dark.
Thursday: Smith Rock State Park to Mt. Hood
Before leaving the tour, I asked Courtney if there was anything we absolutely had to see in Bend. Without hesitation she replied, "Smith Rock." I'm so glad I asked, because this internationally renowned state park – widely considered to be the birthplace of rock climbing – was one of the highlights of the week.
We spent the morning in Bend, wandering the shops, drinking coffee, sitting on the river bank, so we arrived at Smith Rock around 2pm. We sort of missed the point that we had fully moved from coastal region to high desert, and were slightly unprepared for the heat that accompanied us on this hike. In retrospect, it would have been better to get here early in the morning, but I really wouldn't have traded our time in Bend, either.
So we filled up the water bottles, looked over the map, and set out on Misery Ridge Trail. It was very hot, very dry, very steep, and very, very beautiful.
Leaving Bend and Smith Rock behind, we hit the road bound for the historic Timberline Lodge on Mt. Hood. As we drove into the mountains, the weather turned, shrouded the peak in clouds. The temperature dropped nearly 30 degrees as we drove, and arrived at the lodge in a misty rain.
Even so, the Timberline is a sight to behold. Built as a WPA project and dedicated by FDR in 1937, the entire building is an homage to the perseverance and craftsmanship of the American worker. Sitting at the base of the summit, it's one of the few places (maybe the only place?) in the US that has snow all year, so it's a popular destination for ski teams around the world to come and practice. While we were there, in addition to the many local ski schools, there were teams from Canada, Italy and the Netherlands. Skiers and snowboarders roamed the ground, and from the back of the lodge you could just make out the halfpipe above on the mountain.
The weather was typically temperamental, quickly changing from sunny to foggy to misty, so we roamed around the lodge, at two exceptional meals, and headed out of Friday morning.
Friday: Mt. Hood to Portland
Looking back, we made two tactical errors and, unfortunately, they were both on the same day. Leaving Mt. Hood, we passed the trailhead for Mirror Lake Trail, a beautiful uphill walk through the evergreens to a lake that provides beautiful views of Mt. Hood. You have to have a pass to use the trail, and they don't sell the passes at the trailhead. (They do have them at Timberline and Government Camp, just up the road.) But we didn't have the time to backtrack, so we missed out. (As cloudy as it was, I've convinced myself that we wouldn't have been able to see anything, but it's only slight consolation.)
We also had a choice of driving north to and through the Columbia River Gorge or heading west to see the Oregon lavender farm. Though the lavender was certainly nice, we should have gone to the gorge. I guess we'll just have to go back another time…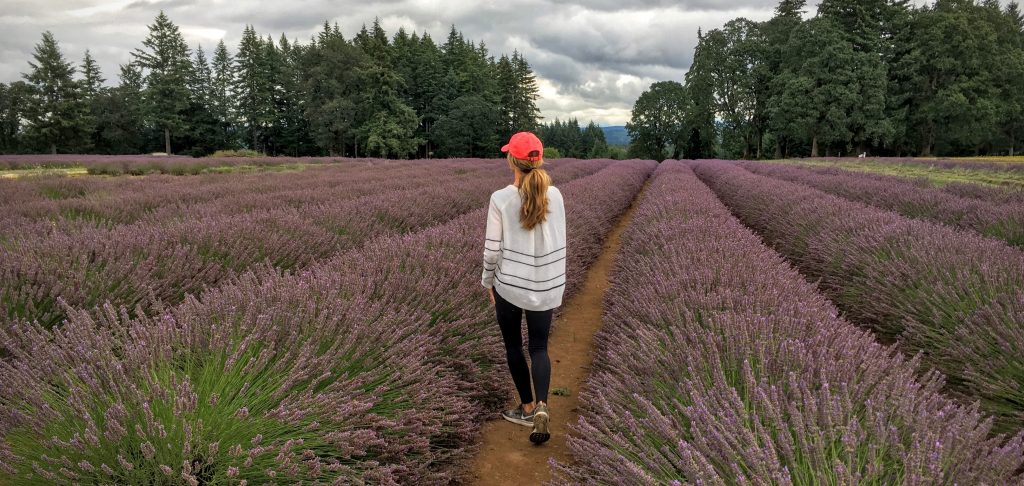 Route Map:
If you're interested in a trip like this, I would definitely encourage you to go. Oregon is one of the most beautiful places I've seen, and – as you can see on the map below – we saw a fairly small portion of it. Though I do recall the naturalist telling us that something 80% of Oregonians live west of the Cascade mountains, so while we only saw part of the state, we met most of the people. (The population density map shows just how dramatic this is.)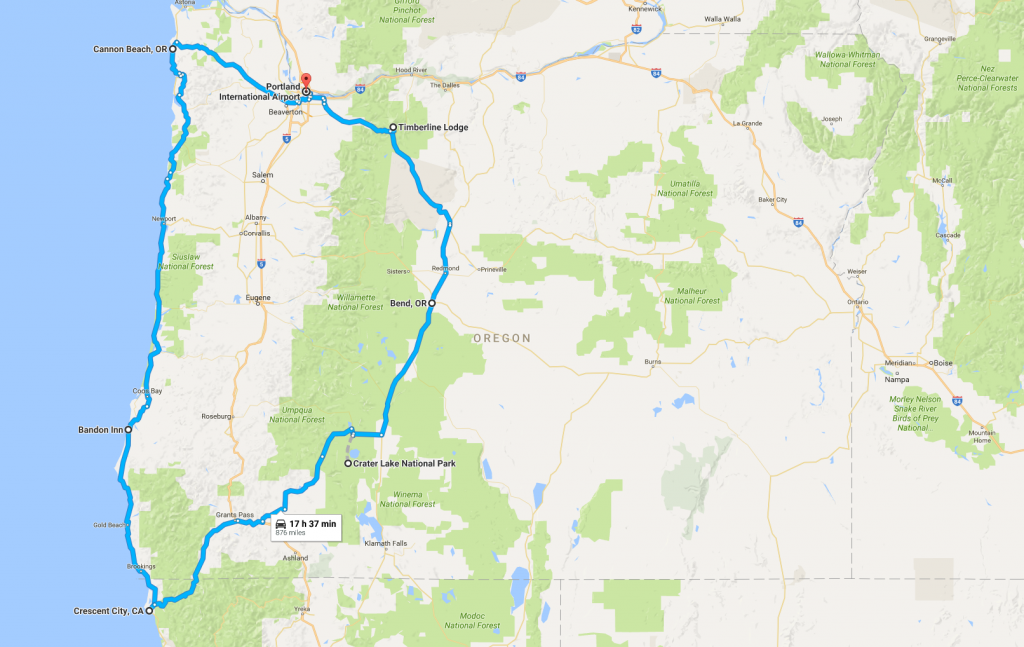 Though I would definitely go back to Oregon in a heartbeat, I would plan the trip differently. Well, I wouldn't do this particular trip (what I've taken to calling "The Rothe Loop") again, though I do recommend it as a way to see a lot in a short period of time. Going back I would likely set up camp in Bend and explore from there: Three Sisters, Mt. Bachelor, Smith Rock, and more than 120 lakes to explore. From Bend, you could get the full Oregon experience in a hip small town.
Safe travels!